This shop has been compensated by Collective Bias, Inc. and its advertiser. All opinions are mine alone. #FortunaForAll #CollectiveBias #cbias
My name is Alison and there are six dogs and three cats in my household. Now some of you are saying whoa…that's a lot of animals running around, and you're right. We didn't start out with such a large pack, but after a foster fail, an abandoned litter of kittens, and my mama moving in and bringing her pets with her, that's what we're working with. And you know what? Sometimes it's a little chaotic and sometimes I wish I didn't always have a dog or three on my lap when I'm trying to work, but at the end of the day, I couldn't give a single one of them up. Their unique personalities, their unconditional love and companionship, and as you can imagine, hours upon hours of entertainment couldn't be replaced.
As I'm sure you can imagine though, keeping this eclectic bunch happy and healthy is not a cheap undertaking. We have to cater to the specific needs of each dog and cat, while doing our best to make the most cost effective decisions at the same time. Making sure they're all well fed and sassy like Cleo here, is actually kind of a fine art and I'm sure this comes as no surprise, but PetSmart is where I'm guaranteed to find all of the supplies I need at prices I can swallow.
Interested in trying Tidy Cats Free & Clean ? Hover over the photo below to click through to PetSmart to shop these products!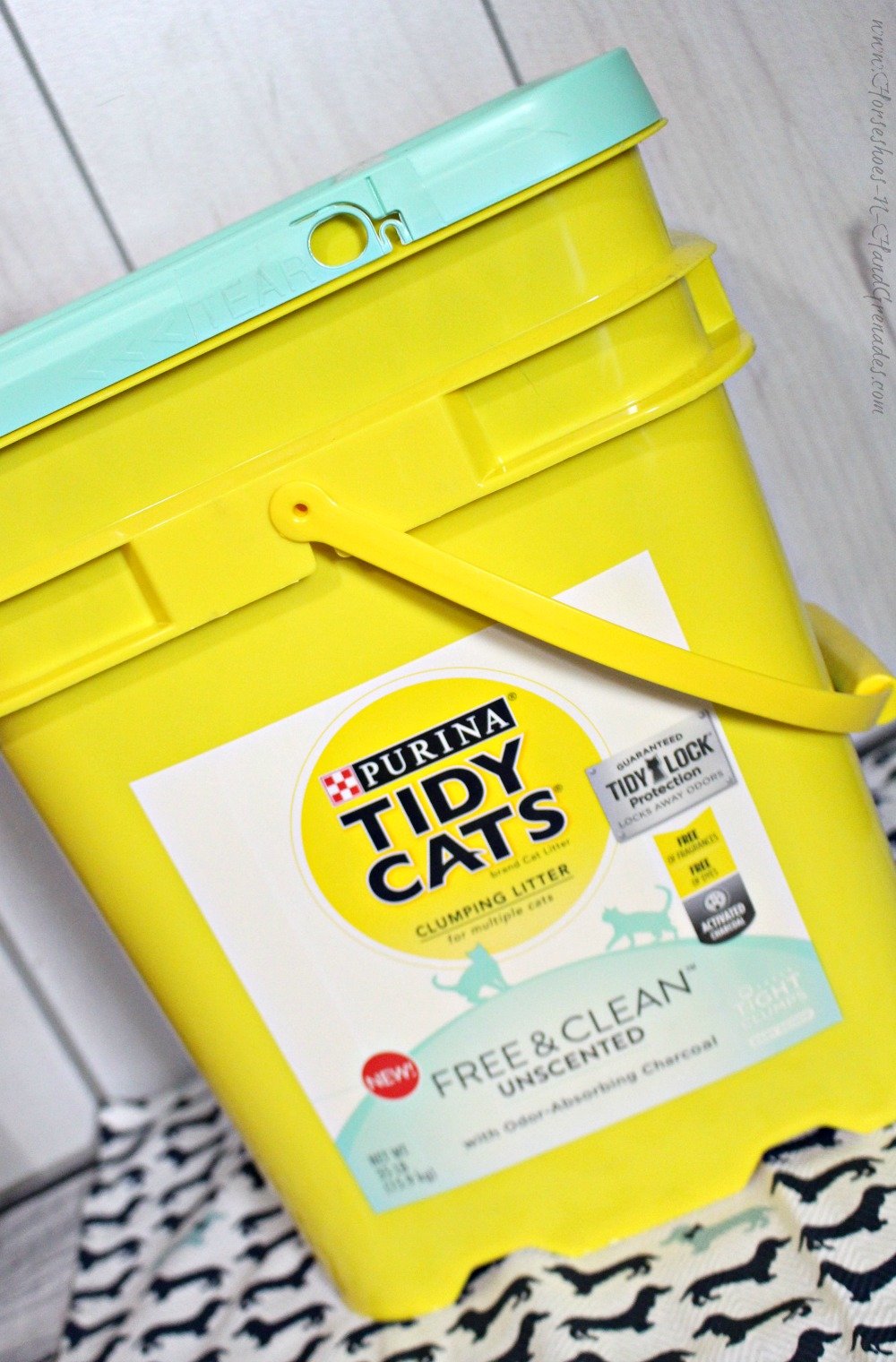 And what will I do with all the money I save? I'm going to load up on treats and toys and accessories to keep all of our pets spoiled as they are accustomed to! On my last trip I was able to pick up a pack of Purina dog treats, Purina Pro Plan cat treats, a dog toy, and the awesome shirt you see below, all for under $5 each!!! Now I call that one heck of a deal!
How You Can Save A Fortune
Spend $20, get a $5 PetSmart gift card: Simply purchase $20 of Purina products in a single transaction at PetSmart (for your first submission). Subsequent purchases can be on multiple receipts.
Register with your contact information and receive an entry into the Grand Prize Sweepstakes then upload your receipt on PurinaFortunes.com and upon validation of purchase, you will receive notification of your gift with purchase.
Physical $5 PetSmart gift card will be mailed to use for follow up visits.
Make purchases 4/3/18-5/18/18; Promotion ends 5/31/18.
And because PetSmart and Purina love to give until it hurts, be sure you also play the Paws of Fate game at Sweepstakes to instantly win prizes such as PetSmart gift cards, as well as Save a Fortune tarot cards!
Prizes:

2 Grand Prizes:

1 Dreams of Fortune Cat Bed – AVR: $2,145
1 Dreams of Fortune Dog Bed – AVR: $2,145

Instant Win Game Prizes

Purina Branded Tarot Cards (50 total) – ARV: $25/ea
$50 PetSmart Gift Card (15 total) – ARV: $50.00/ea
$25 PetSmart Gift Card (15 total) – ARV: $25.00/ea
$10 PetSmart Gift Card (25 total) – ARV: $10.00/ea

No purchase necessary to win.
Since winning and saving on your pet care needs is easy peasy, what will you do with all of your PetSmart savings? Let me know in the comments below and thanks for reading!!!